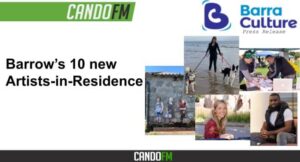 New faces are joining the extraordinary team of Artists-in-Residence already working with local people in Barrow, exploring passions, identity and a sense of home through creative projects.
The first of the new cohort are Spanish artists Belén L.Yáñez and Cristina Villalonga, who will honour and celebrate local womens' contributions to Barrow's community, whether these be large or small, extraordinary or ordinary.
Their project, 'Noras of Barrow' which refers to the Latin for 'honour' will celebrate the role of diverse women in their daily lives. Through walking tours and conversations, local people will contribute to the creation of publicly located portraits of local women inspired by the likes, hopes, voices and personalities of participants.
Internationally renowned Open Theatre will work throughout 2022 with local, neurodiverse young people during several weeks of workshops and creative fun at George Hastwell School, YouthAbility and Autus Cumbria on Walney and with Theatre Factory's staff and young people. Their work is called 'Doing Difference Differently' and results in all kinds of exciting, colourful and inspirational art and performances.
Also working in Barrow for the next year, award-winning theatre and film-maker Corey Campbell, who is the new Creative Director at Coventry's Belgrade Theatre, will be visiting for a week in each season for 'Men for All Seasons', a creative project for young men from Barrow.
Barrovian artist Rachel Capovila, whose family have lived in the area since at least the 17th century, is working with Dalton Arts, Culture and Heritage on the Dalton Town Digital Trail, a route around the town which will illuminate the significant historical hotpots of the ancient town of Dalton. Rachel's inspiration is in the processions and festivities that date back to Medieval times, and her trail will take the form of physical and digital banners for each site: "I want Dalton to have ownership of the Heritage Trail and reconnect with the fascinating history of the town. There will be several creative stages to the project that will require interaction, designing and making and in June there will be a celebration event!"
Danielle Chappell Aspinwall from Dalton will be setting up a shopping trolley in locations across Barrow to chat about local experiences of lockdown, with conversations based around the theme of shopping for her Off Yer Trolley project. The first of her drop-in chats will be from 11-3 outside Asda on Saturday 12 February.
Another local artist Tori Davis will also be meeting and greeting people on 12 February as she launches Benny's Barrow Adventures, her project to encourage Barrovians to think about their home town and its sometimes overlooked beauty spots, places she often visits with her dog, Benny, "The aim of this project is for people to engage with the beauty of where they live and develop their creativity. I'd like to encourage children to explore the beautiful parts of Barrow they may be unaware existed, and illustrate these places as seen through the eyes of my very happy and energetic Border Collie Benny, creating a book for all to download and enjoy."
Artspace, led by musician and Project Manager John Hall, will bring 'Into the Music' to the homes of isolated older and vulnerable adults living in Barrow, celebrating the pleasures of recorded music and working with locals to build a season of audio montages for broadcast and podcast: lively mixes of conversation, readings of new written work, music and the sounds of the town and its people.
Quiet Down There will be working with an artist who will meet and greet local residents in the four Barrow laundrettes for Life through Laundry, a project that uses conversations about laundry and household chores as a conversation starter to encourage chats about domestic life, gender roles and life around the home.
Tiny Wild Fox will bring their latest project 'Life Is…' to men of all ages in Barrow, working to make a positive difference to people's mental health in a time of concerning high suicide rates across the country. The participants will work with Tiny Wild Fox's arborist, carpenter and stone mason to turn responses to the statement 'Life is…' into physical tableaus in rock, stone, wood and other natural materials and will be displayed in an immersive installation for the public to visit.
Finally, Artist Shonagh Short will take up her residency for Barrow Unbounded, where she will take residents on walks around their local neighbourhoods to study small areas in intricate detail, co-creating a website of the stories that emerge from the conversations and discoveries: "I'm fascinated by the unique rhythms and social ecologies of communities, the real joy of my job is meeting people and building relationships so that we can work together to take the pulse and share what makes their place special and distinct".
If you would like more information about any of the projects above please follow our socials and website www.barraculture.org.uk. If you are or represent any local people/groups who might want to get involved please email info@barraculture.org.uk.