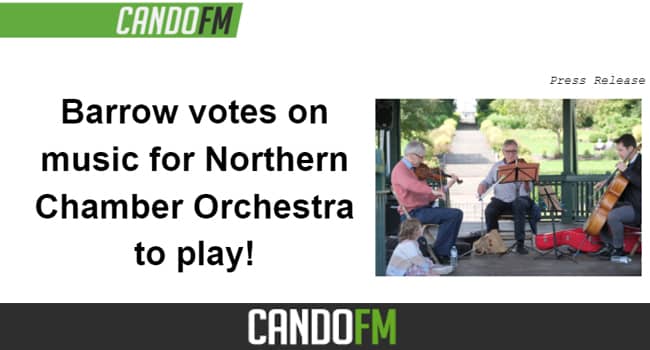 After visiting Barra Culture's Playcation events in August, the public of Barrow have been voting for the music they would like to hear Northern Chamber Orchestra perform next month at the forum as part of BarrowMusic week #Barrowmusic. We are delighted to announce that the winning pieces that topped the vote are:
Mamma Mia, Bittersweet Symphony, Fly me to the Moon and Rather Be.
Players from the Northern Chamber Orchestra delighted young and old alike on their recent visit to Barrow, where they performed in community centres and fields across the borough at the Barra Culture Playcations. Helen, Marketing Manager of Barra Culture says, "it was such a treat to have classical music brought out to the streets in Barrow, where the players could chat to locals passing by and the public spaces be brought alive by music. Looking forward to seeing the full orchestra in the Forum after such a long time without live performances!"
You can hear Northern Chamber Orchestra perform Barrow's choices in a concert of uplifting, exuberant music on 2nd October 2021 at The Forum. Alongside Barrovians top choices, they will perform Holst's playful St Paul's Suite which includes the melody from 'Greensleeves', and was written during his time as music master of St Paul's Girls' School in Hammersmith, London, Weber's Concerto for Clarinet and Strings and Tchaikovsky's famous Serenade for Strings. "The eclectic programme is sure to uplift and inspire and is a fantastic opportunity for the people of Barrow to come together to enjoy the live orchestral sound after the difficulties of presenting live music during the pandemic."
"We are presenting this concert as an expression of hope – that once again people will gather together to hear live performances of great music played by excellent musicians. We hope it will stimulate, soothe, move and entertain, and look forward to sharing it with you" Nicholas Ward, Artistic Director
The orchestral programme at the Forum produced in partnership with Orchestras Live, a national producer and music charity based in Leeds. "We're delighted to be working with our partners at Barra Culture and The Forum to enable the people of Barrow to shape the orchestral events we co-produce. NCO really enjoyed meeting and entertaining people at the summer playcations. I'm excited to hear Barrow's music choices in October and looking forward to involving the community in more creative music making in the future." Becky West, Regional Producer North, Orchestras Live.
For interviews and additional information please contact jmarwood@barrowbc.gov.uk.
CONCERT DETAILS
Northern Chamber Orchestra
The Forum Theatre, Barrow-in-Furness
Saturday 2 October 7.45pm
Tickets £16/£14 conc/£8 child + booking fee
Holst, St Paul's Suite
Weber, Concerto for Clarinet and Strings
Tchaikovsky, Serenade for Strings
Mamma Mia – Abba
Bittersweet Symphony Instrumental – The Verve
Fly Me To The Moon – Frank Sinatra
Rather Be – Clean Bandit
The concert is co-produced with Barra Culture, The Forum and Orchestras Live.
Tickets are available at the Forum's website: www.theforumbarrow.co.uk