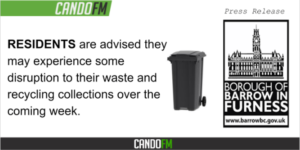 RESIDENTS are advised they may experience some disruption to their waste and recycling collections over the coming week.
Barrow Borough Council's external waste and recycling contractor, FCC, is in dispute with the GMB union and its members.
Residents are asked to leave their waste bin and recycling bins and boxes out for collection on their normal day.
If they are not collected, please leave them out as crews will collect them as soon as possible.
Barrow Borough Council remains in frequent dialogue with FCC to ensure disruption is kept to a minimum. Any updates or information about collections will be made available on our website and on social media channels as soon as it is provided to us.
Barrow Borough Council has said they apologise for any inconvenience the dispute may cause.