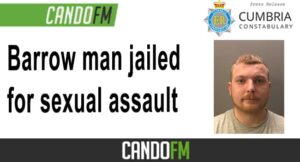 A man from Barrow was sentenced yesterday (Feb 24) to four years for sex offences at Preston Crown Court.
Jamie Hoare, 31, of Ocean Road, Walney was sentenced for the following offences:
Sexual assault on a female
Assaulting a female 13 and over by penetration
Hoare pleaded guilty at an earlier hearing.
The offences relate to an incident on 5th January 2020 in Barrow.
Detective Constable Kate Edkins said: "I would like to reiterate our commitment to investigating thoroughly any reports of sexual abuse.
"There is never an excuse for this type of abhorrent crime, which can result in long-lasting, negative impacts on a victim/survivor.
"I would urge anyone who has been subject to offences of this nature to come forward, any reports will be taken seriously and will be dealt with professionally and sensitively."
If you wish to report a crime or speak to an officer about an incident, please contact Cumbria Police on 101 or the independent charity Crimestoppers, anonymously, on 0800 555 111.
If you have been affected by rape or sexual assault, contact The Bridgeway Sexual Assault Support Service's 24/7 free helpline on 0808 118 6432