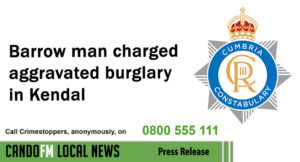 Detectives have charged a man with aggravated burglary following an incident in which an intruder was reported in a home in Kendal in the early hours of Saturday.
Luke Donaldson-Wells, 30, of Scott Street, Barrow will appear before magistrates today (November 20) following work by Westmorland and Furness CID.
The charge was made under Operation Themis – Cumbria Police's ongoing response to and focus on burglaries.
It follows an incident in the town's Kirkbarrow Lane. Donaldson-Wells will appear before magistrates in Barrow.
Anyone with any information about any burglaries can report online at www.cumbria.police.uk/report-it – you can also phone on 101.
Alternatively, you can contact Crimestoppers anonymously on 0800 555 111.