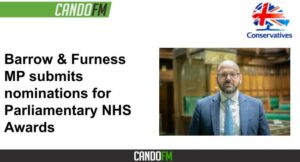 The local MP for Barrow and Furness, Simon Fell, has announced the local health and care workers he has nominated for the national Parliamentary NHS awards.
The NHS Parliamentary Awards launched in 2018 to celebrate the NHS's 70th birthday and recognise the outstanding contribution of staff, volunteers and others working in the health and care sector. Now in its fifth year, the awards have been an overwhelming success with over 450 Members of Parliament representing constituencies in England nominating an individual or organisation for an award.
So many staff have worked tirelessly to put patients first, and this is something that the awards aim to recognise and reward. As part of the NHS's 74th birthday this year, the NHS will once again be looking to celebrate those who have gone the extra mile to support patients.
Nominations for this year's Parliamentary awards closed on the 14th April and Simon Fell has now revealed which outstanding nominees he has put forward.
The Excellence in Mental Health Care Award, The Mental Health Nursing Team, Cumbria Health on Call.
The Future NHS Award, The Digital Team, Cumbria Health on Call.

Commenting, Simon said: "The NHS is one of the nation's most loved institutions and hardworking NHS staff make it what it is today. The stories I hear from local health services make me incredibly proud of the fact that our constituency contains people willing to provide such fantastic care to our most vulnerable residents. NHS staff, volunteers and carers make a true difference to the lives of their patients, and I want to recognise those individuals and teams at this year's NHS Parliamentary Awards.

"Our local Cumbria Health on Call team (CHoC) do a fantastic job meeting patients' needs during out of hours service times. I am thrilled to be nominating the Mental Health Nursing Team and the Digital Team for their fantastic service and dedication, especially given the challenges the NHS is facing after the pandemic."