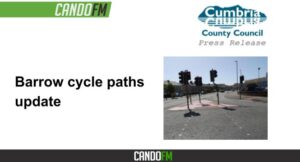 Cumbria County Council is continuing its work on the new cycle paths in Barrow which will result in two new cycle lanes. The project is ahead of schedule and will be completed by the end of July 2022.
The new direct cycle paths along Bridge Road and Michaelson Road, will offer innovative light separation, the first of its kind in Cumbria, which will improve safety for cyclists and pedestrians.
Temporary roadworks have been set up along Bridge Road and Michaelson Road to minimise disruption. However, the county council is aware of traffic congestion issues at this junction and is working to resolve them as soon as possible.
It appears that the traffic signals are not detecting when vehicles are approaching the junction, resulting in too little green light time and some hold-ups. Our technical team will be on site this week to resolve the issue. The county council would like to thank the community for their patience and cooperation during this time and apologises for any inconvenience caused.
Cllr Keith Little, Cumbria County Council Cabinet member for Highways and Transport, said:
"This is a really exciting project for Barrow and with these new lanes, people will not only be able to cycle and walk more often, but they will also benefit from the positive effects on their physical and mental well-being. By walking or cycling shorter distances, we reduce the number of cars on the road, which can improve air quality and decrease carbon emissions.
"The traffic flow system has caused some initial problems and frustrations, especially at peak times, but we are taking concerns and feedback seriously and will resolve the issues as soon as we can.
"In the meantime, we would like to thank the community for their support and patience."
To find out more about cycling and walking in Cumbria, please visit the cycling and walking pages on the Cumbia County Council website (hyperlink) or email CumbriaCyclingandWalking@cumbria.gov.uk