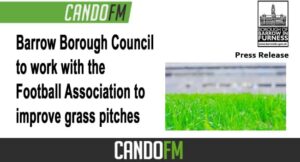 Barrow has been selected by the Football Association as an area that will benefit from a new programme to improve the area's grass pitches.
Barrow Borough Council submitted an expression of interest for the association's Local Authority Grass Pitch Programme Pilot earlier this year.
This week it was announced that the borough had been chosen to go into the scheme which aims to ensure communities across the country have access to 20,000 good quality grass pitches by 2030.
Barrow Borough Councillor Derek Brook, the authority's lead member for community, welcomed the news.
"This really is superb to hear and my thanks go to all those involved in putting together the expression of interest for this programme run by The Football Association," he said.
"Grassroots sport is incredibly important because it provides everyone with an opportunity to get together, enjoy some fresh air and exercise and play a game – things that we know provide huge benefits to our health and wellbeing.
"Here in Barrow we look forward to being able to work with the county Football Association to properly assess the condition of our grass pitches so that steps can be taken next year to bring them into a really good condition."
Barrow Borough Council will now work with The Football Association to look at the current condition of grass pitches in the area that are owned and maintained by the authority.
A Support Pitch Advisor will then help to formulate a list of actions that will need to be undertaken to improve the condition of the grounds.