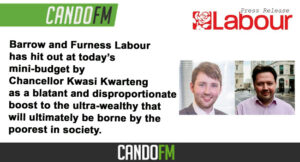 Press Release
Date: 23/09/2022
Barrow and Furness Labour executive committee member Gary Robinson has criticised tax cuts that "mainly benefit the ultra-rich and big business", coupled with massive borrowing just as interest rates keep rising, as "papering over 12 years of economic failure".
"To cap it all gigantic windfall profits for fuel companies remain untaxed.
"This is the biggest tax cutting event since 1972 and here we go again with huge tax cuts amid rising inflation, rising interest rates, rising bankers bonuses and huge borrowing.
"Just when you think the Tories can sink any lower, they find a way of lining their cronies pockets while they can as they surely know they are on their way out when the public get the chance to kick them out at the next general election."
Furness Young Labour's Scott Salisbury questioned Barrow MP Simon Fell's stance on the matter, calling the budget "full of handouts for the super rich" while hardship for everyone else continues.
"Simon Fell told us that he couldn't support a freeze in the energy price cap for ordinary people because it may disproportionately benefit the richest, " said Salisbury. "Yet he's happy to support £45bn of tax cuts which will overwhelmingly benefit the richest 1% in society.