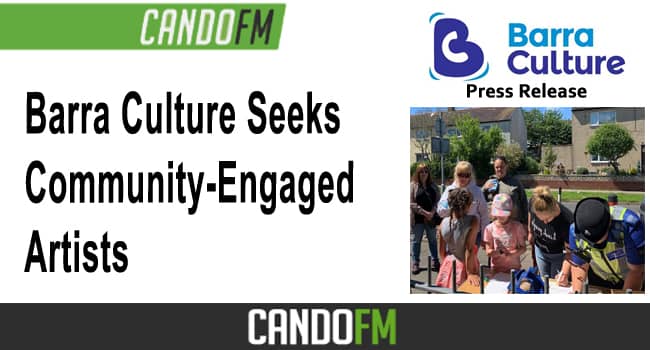 Barra Culture is seeking artists from any discipline to work with creatively with local communities.
The organisation is part of Arts Council England's Creative People and Places Programme, which is about more people taking the lead in creating and taking part in arts and culture experiences in the places where they live.
As part of the Engaging Barrow Artist-in-Residence programme for 2021-22, Barra Culture are generating an Open Call for 4 Community-Engaged artists or companies working in any art form: combined arts, craft, dance, digital, film, literature, music, outdoor art, public art, theatre and visual artists are all welcome to apply.
Working with either a geographic community; anything from a street of 50 people up to a neighbourhood of around 3000, or working with a characteristic/identity group such as teenagers, young adults, older people, physically disabled people, neurodiverse people, women, men or families with young children, the artist will be joining Barra Culture at an exciting time to really make a difference with the people of Barrow.
In collaboration with Barra Culture's Creative Communities team, the artists will be chosen with local people's input and given £8000 to deliver an exciting, distinctive, and inspirational participatory arts project in the Borough of Barrow-in-Furness.
Whilst other residencies in the programme have very specific briefs from the Barrow communities, this Open Call has been designed to provide scope for unlimited, imaginative and probably unexpected ideas.
The selected practitioners will join the artists already working on projects in Barrow. These include Kate Jackson and Richard Shilling who are working with residents to transform green spaces across the Barrow Borough. The Ormsgill Now and Then project is exploring local people's experiences of their local area with artist Mike Thompson, soon to be joined by local artist Kathrin Bonnar who has been commissioned by local people to create a piece of work as a personal response to the project. Artist Kim Hubball is a Manchester-based artist who is leading Colours of Barrow, a project which is illuminating the Borough of Barrow through colour palettes which will form an artwork, and be used as a reference point for future artworks representing the place. Finally, a Digital Map of Barrow is being created by audio-visual company Squeaky Pedal, and Filmmaker Pete Roach, who are working with Love Barrow Together and people from all walks of life to create a digital map which will host the lived experiences and previously unheard stories of Barrovians.
The application deadline is Monday 18 October 2021, and the projects will be delivered between 15 November 2021 and 31 March 2022.  Please see our temporary website barraculture.org.uk for details and how to apply.