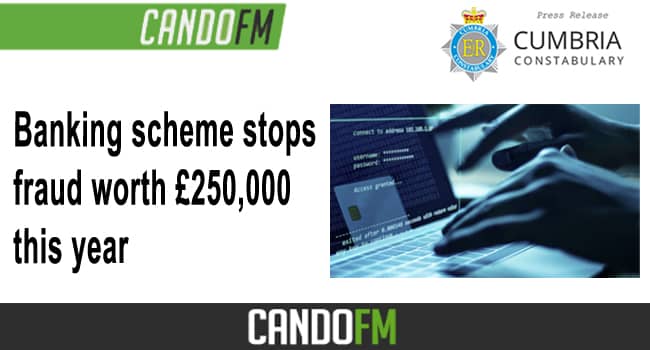 A scheme that sees banks, building societies and Post Offices work with police stopped fraud worth more than £250,000 in Cumbria in the first half of this year.
The Banking Protocol led to nearly 60 emergency calls being made in the county between January and July, protecting customers from losing an average of £5,710 to criminals.
This is a UK-wide scheme, launched by UK Finance, National Trading Standards and local police forces.
Branch staff are trained to spot the warning signs that suggest a customer may be falling victim to a scam, before alerting their local police force to intervene and investigate.
Real life national case studies from the first half of the year are included at the bottom of this release. 
The Banking Protocol was rolled out by Cumbria Constabulary in August 2017.
Since March 2018, the scheme has been implemented by all 45 police forces across the UK.
It is often used to prevent impersonation scams, in which criminals imitate police or bank staff and convince people to visit their bank and withdraw or transfer large sums of money.
It is also used to prevent romance fraud, in which fraudsters use fake online dating profiles to trick victims into transferring money – and to catch rogue traders who demand cash for unnecessary work on properties.
Customers assisted by the scheme are offered ongoing support to help prevent them from falling victim to scams in the future, including referrals to social services, expert fraud prevention advice and additional checks on future transactions.
Detective Inspector Duncan Brooker, of Cumbria's economic crime unit, said: 
"Fraud is big business for criminals.
"It's an area of criminality that is notoriously difficult to prevent and detect, because there are just so many different types of scams in existence and because those who commit fraud can do so from anywhere in the world.
"The Banking Protocol plays a vital role in trying to prevent people from becoming victims of potential fraud.
"Where staff at a bank, building society or post office suspect that a customer is trying to withdraw or transfer funds as part of a potential fraud, those staff will intervene and contact the police.
"This hopefully safeguards the potential victim and provides lines of enquiry for the police to explore.
"Telephone and internet scams can essentially be conducted from anywhere, making the identification of such scammers very hard to establish and even harder to deal with."
Cumbria's Police and Crime Commissioner, Peter McCall, said:
"Online and phone scams are prevalent in today's society, where criminals no longer need to leave their home to pick a victim.
"Fraud can have a serious impact on a victim, not only financially but mentally and socially as well so it's great to see that branch staff are being trained to spot the signs and prevent crimes taking place.
"To know that branch staff have saved over £250,000 being taken off Cumbrian residents really is brilliant.
"Education and prevention really is key to avoid becoming a victim of fraud and I would encourage everyone to look on the Get Safe Online website to learn how to protect themselves as best as possible.
"I would also encourage anyone who has fallen for a scam to come forward and report it to the police and Action Fraud on 0300 123 2040."
Katy Worobec, managing director of economic crime, UK Finance, said:
"Fraud has a devastating impact on victims so partnerships like the Banking Protocol are not only crucial in helping vulnerable people, but it also stops stolen money from going on to fund other illicit activities including drug smuggling, human-trafficking and terrorism.
"Criminals have continued to capitalise on the pandemic to commit fraud, callously targeting victims through impersonation, romance, courier and rogue trader scams.
"Branch staff and the police are working on the frontline to protect people from fraud and these figures highlight the importance of their work in stopping these cruel scams and bringing the criminals to justice."
To build on the success of the scheme, banks and building societies are continuing to work with local police forces on expanding the process to cover attempted bank transfers made by customers through telephone and online banking.
UK Finance is urging customers to follow the advice of the Take Five to Stop Fraud campaign, and remember a bank or the police will never ask you to transfer funds to another account or to withdraw cash to hand over to them for safe-keeping.
Case studies
Romance scam 
A woman tried to send an online payment of £2,500 to the USA to a friend she had previously worked with in the UK. When the payment was blocked, she visited her local bank branch. She said she had been exchanging messages with this friend on a social media platform and that they had asked for the money to pay their hospital fees. Staff invoked the Banking Protocol, and the local police attended the branch. No money was lost to this scam.
Courier scam 
A woman in her eighties received a telephone call from a man claiming to be from her bank. The man claimed there was an issue with the victim's account and in order to help her with this he needed her to withdraw money (£2,000) from her account. The victim was told to attend the bank to do so and call back when home for further instructions. 
The victim attended the branch and staff confirmed to the victim that this man had not been in contact with them, and it was in fact a scam. The staff refused the withdrawal and invoked the Banking Protocol, alerting local police. Officers attended and offered fraud advice to the victim. The bank also put measures in place to further safeguard the victim from any future frauds.  
Investment scam 
A man in his nineties visited his local bank branch as an international payment he had attempted to make online had been stopped. He had been contacted by a company who wanted to sell shares that he held in America, saying he could get a return of £60,000 but had to send $7,000 dollars which he would get back. Bank branch staff invoked the Banking Protocol and the police visited him at home. No money was lost and the police are investigating this company further. 
Rogue trader scam 
A woman in her eighties had builders explaining that they had been working on her neighbour's roof and noticed that her roof also needed repairing. The victim offered to show the builders her property and they told the victim it was an urgent issue which needed to be fixed.  
The builders quoted the work (£1,500) and told the victim that they needed to take the payment in cash only. The victim explained that she would need to attend the bank to withdraw this.  
At her local bank, the victim explained to bank staff what the money was for which made staff concerned it was a scam. Bank staff invoked the Banking Protocol, alerting the local police force and refused the transaction.  
Officers attended and were able to offer the victim advice and ensured no suspects were still on the scene. Officers were also able to enquire with neighbours and ensure they were supporting the victim in future. A fraud caseworker has offered her ongoing support.