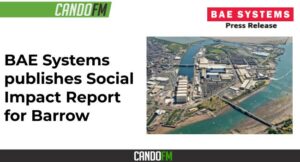 The vast range of community and education support provided by Barrow's biggest employer has been captured for the first time in a single document.
BAE Systems Submarines' Social Impact Report illustrates the breadth and depth of assistance provided which ranges from charitable donations and community events to STEM education and extensive supply chain support.
By providing a clear view of its support to all corners of the community, the report will help the Company build on its existing initiatives and inform potential beneficiaries of the assistance available now and in the future.
Introducing the report, Steve Timms, Managing Director of BAE Systems' Submarines business, said: "The last couple of years have arguably been the most difficult in a generation and whilst the Covid-19 pandemic has created significant challenges for us all, it has also brought us closer together."
"In this environment, it has been more important than ever for our business to step up and use our resources, experience and skills to support those communities where we live and work."
In 2020/21, the business supported nearly 200 community projects. Some of the projects were in response to Covid-19, such as the creation of temporary hospital facilities. When the pandemic impacted education provision, the business stepped in to provide 170 laptop computers to local year 10 pupils and made a range of resources available through its online learning hub.
Other notable initiatives involved supporting education and skills activities, heritage projects and initiatives to help Armed Forces veterans and their families.
During the report period, more than 70 schools across South Cumbria benefited from science, technology, engineering and maths sessions delivered by the 350 BAE Systems Submarines' STEM Ambassadors. These are employees who use their passion and experience to help inspire the next generation. This work has benefited more than 7,000 students.
The business is also a leading proponent of employment initiatives such as Movement to Work and Kickstart, which tackle youth unemployment by offering work placements to individuals currently outside of work, education or training. To date, almost 200 young people have benefited from these programmes in Barrow, more than half of whom have gone on to further employment with the Company.
Councillor Ann Thomson, the leader of Barrow Borough Council, said: "As a major employer for the area, BAE Systems plays an important role in the borough and further afield, supporting more than 11,000 jobs in Cumbria and helping to create a buoyant supply chain economy."
"We know that BAE takes its wider involvement in our communities very seriously, and its ongoing work in this area is something that we, as a council, are very keen to support."
Janet Garner, Head of HR, Skills and Academy Principal at BAE Systems' Submarines business, said: "We're proud of the work our business and our staff do in the community. This report helps us understand exactly where that assistance has been directed and will help us
maintain our commitment to providing continuing support in the future."
BAE Systems Submarines' community investment supports the Company's wider ambition to make a positive social and economic contribution to the communities in which it operates. Activities across BAE Systems are focused on supporting service personnel, veterans and their families, inspiring young people to consider STEM subjects and careers and supporting local communities.