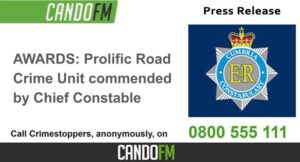 A team of police constables who, in one year, seized drugs worth almost £2.5 million and made more than 70 arrests have been commended by the Chief Constable.
Four Police Constables from the Road Crime Unit (RCU) received their commendations at a ceremony on 1 December 2022.
They were commended following a prolific year in which they made an outstanding contribution to disruption serious and organised crime on Cumbria's road network.
Their work included proactively targeting criminals to stop and disrupt serious offending including cross-border drug supply, money laundering, county lines and serious acquisitive crime.
Their efforts came via a combination of intelligence-led interventions and spontaneous activity based on professional instinct.
Their work also proved invaluable in a number of notable murder investigations.
The officers were put forward for their commendation by Sergeant Jonathan Kelly.
He said: "That such a small team can achieve such incredible success over the period of a single year is a testament to both their individual professionalism and their self-motivation.
"A significant proportion of their arrests were those involved in drug dealing and other serious organised crime.
"The amount of drugs and money they have been able to take away from criminal gangs seeking to operate in the county have significantly impacted these criminal operations and sent the message loud and clear that Cumbria is no soft touch for criminality."