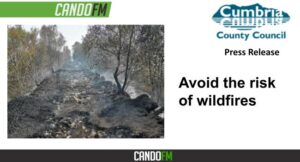 Warmer weather and the increased numbers of people visiting the countryside creates a greater risk of fire.
Follow these simple tips and help avoid the risk of fire in the countryside:
When camping, use torches instead of candles and place your cooking area well away from the tent
Avoid using open fires in the countryside
Only use barbecues in a suitable and safe area and never leave them unattended
Don't leave bottles or glass in woodland
Extinguish cigarettes properly and don't throw cigarette ends on the ground – take your litter home
If you see a fire, report it to the fire and rescue service immediately. Don't attempt to tackle fires that can't be put out with a bucket of water – leave the area as quickly as possible
For more information, please visit the Cumbria County Council website.