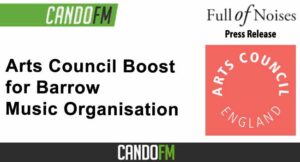 Barrow's sound art and new music organisation – Full of Noises – has received Arts Council support for the next three years, just ahead of the re-opening of its base.
Full of Noises(FON), which has been a prestigious Arts Council England National Portfolio Organisation since 2012, has retained that status and funding for 2023-26.
The news comes just weeks before the organisation's newly improved space at Piel View House in Barrow Park re-opens for its first public event.
"As we prepare to launch our newly built public space in Barrow Park, we're looking forward to working with artists and audiences through a year-round programme of sound and music events," said Glenn Boulter, FON's artistic director.
Full of Noises joins other Barrow arts organisations, Signal Film & Media, Theatre Factory and Art Gene in remaining a National Portfolio Organisation.
Since starting life in the former canteen building at Barrow shipyard in 2009, FON have produced more than 100 events including six biennial festivals showcasing new work by more than 200 artists, and is now a nationally recognised sound art and new music organisation.
FON moved to Piel View House in 2010, transforming the way in which the organisation engages with audiences, using park locations for events and offering new experiences for people.
Work on a major redevelopment of Piel View House is now complete and the space will be officially opened this winter.
It will allow FON to base their programme entirely within the park with the new project and performance space hosting regular events including workshops, exhibitions, concerts and talks.
Piel View House will also become a more flexible hub for sound artists and musicians based in the Furness area and Cumbria, providing access to the venue to develop work and to meet fellow creatives and performers.