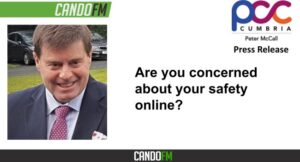 Do you worry about falling victim to a scam? Not sure how to tell if a website is legitimate when buying Christmas presents? Want to make sure that your children are safe when browsing the web?
Cumbria's Police and Crime Commissioner, Peter McCall, is hosting a cyber-safety Facebook 'live' with Get Safe Online CEO, Tony Neate for anyone who has concerns or questions regarding their online safety.
The PCC and Tony Neate will be available to answer questions on a dedicated Facebook post or via email on Tuesday 25 October between 4pm – 5pm. Anyone who wishes to submit a question or concern can do so at commissioner@cumbria-pcc.gov.uk, call the Office of the  or on the dedicated Facebook post on the day.
Speaking on the event, PCC Peter McCall, said: "Cyber-criminals are continuously advancing and improving with technology and making it more difficult for the public to recognise that they are being defrauded or targeted.
"It can also be incredibly difficult to prosecute these criminals as they can target victims from anywhere in the world.
"This is why education and prevention are so important and why I commission Get Safe Online to provide training, tips, and advice in Cumbria.
"This Facebook 'live' will give people the chance to ask questions and receive an answer in real time. Tony is an expert in cyber safety and can answer any questions people have regarding their own or their children's safety online.
"I would urge anyone who has a cyber-safety concern to email or call my office and keep an eye out for their answer on the 25th between 4pm – 5pm.
"If anyone has already been affected by a cyber-crime, please report it to the Police on 101 or to Action Fraud on 0300 123 2040."
Tony Neate, CEO at Get Safe Online, added: "I am very pleased to be joining Cumbria's Police and Crime Commissioner for a Facebook Live next week.
"With the cost-of-living crisis affecting us all this Winter, making sure you protect yourself from fraud and other online crime is more important than ever.
"I'll be sharing some sound tips and advice on how to make sure you use the internet with confidence this winter – whether Christmas or Black Friday shopping or staying in touch with loved ones.
"Join us if you can, we'd love to hear any questions you have and will help as best we can."