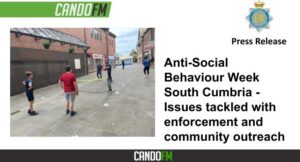 This year's antisocial behaviour week (18-22 July) coincided with the start of the summer holidays for many in the county.
Officers in South Cumbria have been working in the community to help provide activities for young people in the area.
This includes the Make a Change Urban Drop-In, in Barrow, which is held every Monday at 5.30pm, in and around Portland Walk in the town centre.
This week, activities included football tennis and archery.
The project is a partnership with a range of agencies including the police, fire, County and District Councils, Barrow AFC, Barrow Raiders and more.
The Neighbourhood Policing Team in Barrow also spent time with the True Colours Youth Group this week.
In South Lakes, officers have been promoting the work of the Child-Centred Policing Team this week and their role in helping resolve antisocial behaviours issues.
The team has specially-trained officers to work with and support young people at risk of becoming involved in criminality, to positively change behaviour.
Offices also initiated a test purchasing operation in Windermere and Ulverston and were pleased at the response of licensees – all pubs and off licenses successfully implemented their Age Verification Policies when tested and no sales were made.
Officers work all-year-round to tackle antisocial behaviour in South Cumbria – and Antisocial Behaviour Week is no exception.
Patrols have been conducted in Ulverston each day, in the early afternoon and evening following reports from residents of antisocial behaviour in the town.
These patrols resulted in some young people being taken home due to their behaviour and their families spoken to by officers.
On Wednesday 20th July officers patrolling the area were able to swiftly locate three teenage boys suspected of being involved in a fight in Ulverston town centre. One was subsequently eliminated from enquiries, whilst the other two were released whilst officers continue their investigation.
Chief Inspector for South Cumbria, Annette McClement, said:
"Antisocial behaviour can have a significant negative impact on individuals and communities in South Cumbria, which is why it is a priority for our officers 365 days a year.
"Our officers don't just work in silo but with community partners, councils and other agencies, to give us the best chance of curtailing or stopping antisocial activities.
"Enforcement activity is an important aspect which our officers do not shirk from. This week we have arrested youths suspected of antisocial behaviour in Ulverston and we have taken steps to address concerns about under-age drinking in the community.
"But we as a Constabulary are also supportive of activities aimed at positively changing behaviour and giving young people in the community positive outlets.
"I continue to urge anyone who witnesses antisocial behaviour or who has information on those responsible to contact police immediately so that action can be taken swiftly and effectively."