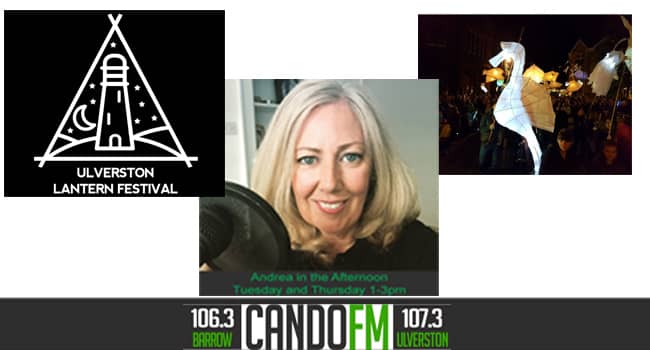 Joining Andrea on the Afternoon show this Thursday from 1pm will be Chris Nelson who is part of the organising committee for the Ulverston Lantern Festival which is taking place on 25th September.
Ulverston Lantern Festival will take place on Saturday, September 25th, 2021.
In 2020 we were forced by the pandemic to hold a virtual festival.
This year we are crossing fingers and toes that the worst of the pandemic is behind us and all restrictions lifted over the summer will stay that way. So, it is full steam ahead with preparations for the Festival.
We will be monitoring Government restrictions to ensure everyone stays safe on the night of the festival and at the workshops to be held the week before – Saturday September 18th to Friday September 24th. The event itself is held outside and people can still wear masks if it makes them feel safer in Ulverston's crowded streets.
Those taking part in the procession will be encouraged to give themselves and their neighbours a little more space.
Our theme for 2021 is 'My Favourite Things' – so it opens up a world of possibilities for everything from animals to sea creatures, birds to bees, spaceships to submarines, superheroes to shining stars – whatever is your favourite thing, that's what you can make.
The Festival Committee responded to calls from our supporters to organise the event a little earlier to make it more user friendly. That prompted a move from the second Saturday in September to the third. And now the clash with the delayed Keswick to Barrow walk has forced us to move to the fourth Saturday – September 25th.
Because the event is a little later in September, it can start earlier because night will fall sooner. The various processions will start from their normal locations between 7.15 and 7.30pm and will arrive at County Square around 8.00pm.
The big firework finale is scheduled to begin no later than 9.00pm.
Anyone wishing to take part in the festival and make one huge lantern or lots of individual lanterns, can contact us for your materials – with special prices for schools. Kits are set to go on sale from the beginning of August, and will be available from Appleseeds on Market Street, and from the Market Hall, at a cost of £5.00 each.
Each kit will contain willow withies, masking tape for securing the frame, paper, PVA glue for coating and strengthening the paper covering the frame, wire and a candle – in fact everything needed to create a lantern for the festival. Many people now prefer to use LED lights in their lanterns, but candles give a warmer flickering light.
Help us make the 2021 Ulverston Lantern Parade a night to remember.