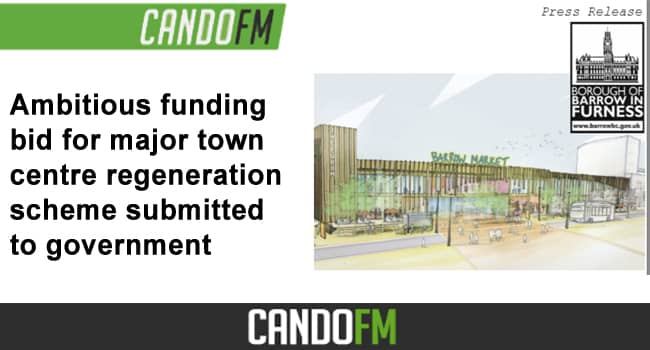 AMBITIOUS plans to regenerate part of Barrow town centre have been submitted to the Government's Levelling Up Fund.
The bid – developed by Barrow Borough Council – is made up of a package of exciting, high impact projects designed to create a destination that attracts people into the area and boosts civic pride.
It includes improvements to Barrow Market and a newly designed exterior to the market hall and its neighbouring building The Forum. There would also be enhancements to the public realm between the market and Barrow Town Hall as well as better transport links.
The scheme seeks £16 million from the Government's £4.8 billion Levelling Up Fund which aims to support town centre and high street regeneration as well as supporting local transport projects, cultural and heritage assets.
Councillor Ann Thomson, leader of Barrow Borough Council, said: "A significant amount of work has gone into developing this exceptional bid which has the potential to deliver a huge economic boost to our town centre.
"We know that the way people use town centres are changing and that Covid has accelerated this change further. This proposal would help to reshape the way people see our town centre – encouraging them to visit more often and to stay longer than before.
"This is a big opportunity for Barrow – I hope it is successful in securing the funding we need to make these changes happen."
In March 2021 Government sought applications from local authorities that could benefit from the Levelling Up Fund.
Barrow Borough Council was subsequently categorised as the only Priority 1 authority in Cumbria.
The bid to the Levelling Up Fund includes:
– Improvements to Market Hall which would see the ground floor of the building regenerated to include new stall spaces, a food hall, soft play area for children and repairs to the roof
– A new look exterior offering a shared entrance with improved access to The Forum and Barrow Market
– Better connectivity with the rest of the town through improvements to transport infrastructure and the public realm
The proposal was submitted to the Government on Friday, June 18 after it had secured approval from members of Barrow Borough Council's Executive Committee.
Councillor Thomson said: "We have every confidence that our town centre has a bright future ahead of it.
"We hope the Government will see the huge potential of this proposal for Barrow and the benefits it could bring to our wider communities and economy."