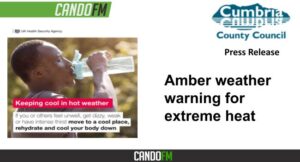 An an amber weather warning for extreme heat has been issued this weekend.
The warning is expected to remain in place across the county throughout Sunday 17 July and continue until Tuesday 19 July as the nation's heatwave continues.
The hot spell, likely peaking early next week, may lead to widespread impacts on people and infrastructure – with temperatures expected to exceed 30oC.
For advice about hot to stay safe in hot weather, visit the NHS website.
If you or someone else feels unwell with a high temperature during hot weather, it may be heat exhaustion or heatstroke. Find out about the signs of heat exhaustion and heatstroke, and when to get help.
Claire King, Public Health Consultant for Cumbria County Council, said:'Most of us welcome hot weather, and we want everyone to enjoy it, but when it's too hot for too long, there are health risks.
'The main risks to health during a heatwave are not drinking enough water, overheating (which can make symptoms worse for people with heart or breathing problems) and heat exhaustion and heat stroke.
'Make sure you stay hydrated, don't stay in the sun for too long and look out for people who may be vulnerable during the hot weather such as older relatives or neighbours.
'In England, there are on average 2000 heat related deaths every year. So please follow the advice and make sure it does not harm you or anyone you know.'