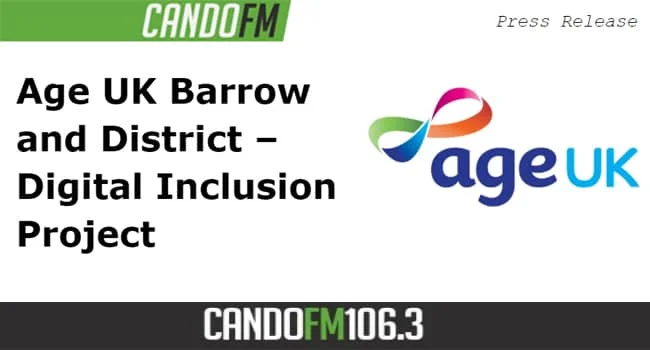 Age UK Barrow and District are launching an exciting new project to support Digital Inclusion.
What is Digital Inclusion?
"Digital inclusion is the ability of individuals and groups to access and use information and communication technologies."
Government research identifies four main kinds of challenges that people face, stopping them going online:
• Access – the ability to actually go online and connect to the internet
• Skills – to be able to use the internet
• Motivation – knowing the reasons why using the internet is a good thing
• Trust – a fear of crime, or not knowing where to start to go online
Our project aims to help older adults find their way around the digital landscape, to be more engaged with digital technology and use that technology to help them feel less isolated.
Shaun Blezard, Age UK Barrow & District's new Digital Activities Manager said 'As more of our lives are being conducted online we need to make sure no one is left behind. Nearly 80% of people who are digitally excluded in the UK are over the age of 65 and we have learnt during the pandemic that there are a lot of simple ways to get and stay connected.'
The Digital Inclusion Project will be working with people around Barrow, Dalton & Askam and we aim to cover the following:
Online Sessions: Age UK will be hosting a wide variety of online sessions for older adults. Starting with an Online Breakfast Club every Monday between 10am and 12 midday and looking at activities that can be held via Zoom (an online meeting platform) such as exercise classes and social groups.
Technology Loan Service: Age UK have a number of tablets available to loan to clients so they can try out being online, get support from our staff and volunteers and connect with family and friends.
Resource Library: Age UK want to work with partner organisations to create a library of helpful resources covering topics like Scam awareness, How to send an email, Yoga sessions to practice at home, Using My GP App which can enable people to connect with their GP practice to order medication and book appointments and much more.
Digital Champions: One of the main reasons older adults drop out of the digital world is lack of personalised one on one support. We will have a team of Digital Champions made up of staff and volunteers who can help clients navigate the digital world. Regular and patient help will create a safer and more welcoming online world for our older community.
Shaun said 'this really is an exciting opportunity for the local online community to help older people to connect online and to improve their quality of life. We want to explore the digital landscape and include as many people as we can. With modern communication there are so many ways we can interact with friends and families all across the globe.'
If you want to find out more about the project as a participant or partner, to find out how to become a Digital Champion or share any ideas please contact Shaun Blezard at shaun.blezard@ageukbarrow.org.uk or phone Age UK on 07565 204401.
Notes:
Sessions Coming Up:
Online Breakfast Club
Mondays 10am – 12 midday
Singing with Julia
Wednesdays 10:30am – 12 midday
Otago
Tuesdays & Thursdays 10:30am – 12 midday (4 week course)
In partnership with Active Cumbria
If you would like to come to a session or want more information email Shaun on shaun.blezard@ageukbarrow.org.uk or phone Age UK.
• 4.5 million adults in the UK have never used the internet, of whom 3.7 million are aged 65+
• Including those who have not used the internet in the last 3 months, there are 5.3 million adults in the UK who are not regular users, of whom 4.2 million are aged 65+
• By this measure, over 79% of all digital exclusion is among those aged 65+
• Use decreases with age. While 80% of the 65 – 74 age group are internet users, this falls to 44% in those aged 75+
https://www.ageuk.org.uk/globalassets/age-uk/documents/reports-and-publications/age_uk_digital_inclusion_evidence_review_2018.pdf
https://www.gov.uk/government/publications/government-digital-inclusion-strategy/government-digital-inclusion-strategy