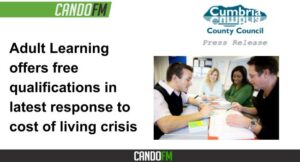 Cumbria County Council's Adult Learning service has announced a new measure to support people in response to the cost-of-living crisis.
From this month, all skills and qualifications courses will be offered free of charge until the end of the 2022-2023 academic year.
This measure is in addition to the announcement back in June that Cumbria County Council's cabinet approved £2m worth of additional funding in response to the cost-of-living crisis to support individuals and families experiencing financial difficultly.
By offering skills and qualification courses for free, the council hopes to support people to gain the knowledge and skills they need to get the job they want or take up new opportunities.
Skills and qualification courses now being offered for free include Awards in Healthy Living for Wellbeing and Mental Health Entry 3, Environmental Sustainability Level 1 and Digital and IT Skills Level 2 – and more.
Deborah Earl, Cumbria County Council Cabinet Member for Public Health and Community Services, said:
"We recognise that financial difficulties are having an unprecedented impact on people throughout the county and we are committed to helping wherever we can.  Learning, and gaining new qualifications and skills can lead on to new jobs and opportunities.  While so many people are facing economic strain, we want to make sure these opportunities are available to everyone.  I'm pleased to share that all qualification courses will be available for free. 
"Our new curriculum for 2022-2023 has just opened for enrolments – I'd encourage everyone looking for new opportunities to see what's available on the website or in the brochure delivered to their home."  
For more information on the courses on offer, visit: adultlearning.cumbria.gov.uk
For more information about the support available to people struggling with the cost of living – whether you need financial, emotional or physical support – please visit cumbria.gov.uk/costofliving