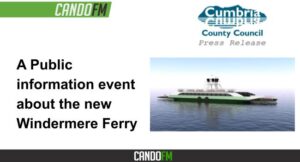 Cumbria County Council's Windermere Ferry Service is developing plans to replace the current car ferry, the 'Mallard' with a brand-new electric ferry. On Thursday 23 June, the public will have another opportunity to come and discuss these exciting plans with the new ferry project team.
The Mallard is more than 30 years old, having first been introduced in 1991. The age of the ferry has led to reduced reliability and increased repair costs in recent years.
The council intends to replace the Mallard with a new, faster electric car ferry, which will increase the number of daily crossings and provide an improved service with reduced emissions. Like the Mallard, the new ferry will be a cable ferry that pulls herself across the lake on two wire cables.
Alongside the design and build of a new ferry, the access road and slipway to the ferry will be looked at. The current access and slipway floods on a regular basis which leads to the ferry being inoperable.
This second public information session follows on from the one held on 7 June and is taking place at Hawkshead Market Hall between 4pm to 5:30pm on Thursday 23 June. A presentation and Q&A session will then take place from 6:00pm – 7:00pm. If people are unable to attend but wish to provide any comments or view the plans, details are available on the county council's website: https://cumbria.gov.uk/roads-transport/highways-pavements/windermereferry.asp
Cllr Keith Little, Cabinet Member for Highways and Transport, said:
"I am delighted to see the next phase of the plans to replace the Windermere Ferry taking shape. The brand-new electric vessel will be much more reliable, with an improved service for users, able to carry more vehicles and passengers every day, whilst reducing emissions.
"There has been a ferry service across Lake Windermere since the17th Century, and I am looking forward to seeing what the next chapter of this important route has in store. Thank you to those who came along to our first session earlier this month. I'd really encourage local people to come and chat to the team on 23 June to find out more and share their views on what will be a really exciting project."
The first phase of the project has involved investigating the feasibility and options for the new car ferry service. The next phase – now underway – is the procurement of a shipyard for the design and build of the new ferry.
The procurement process will see shipyards across the country invited to submit their ideas and designs for the new ferry before a formal tendering process takes place. The aim is to place an order with the successful shipyard in Autumn 2022 for delivery of the new ferry in Spring 2024.