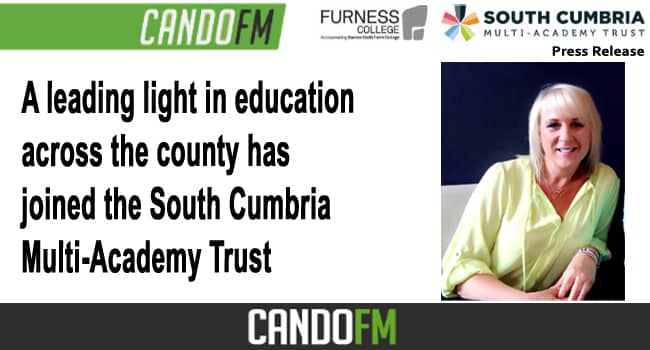 A leading light in education across the county has joined the South Cumbria Multi-Academy Trust.
Former headteacher Caroline Vernon has taken a role as Primary Consultant for the Trust, which is led by Furness College.
Caroline, who has worked in education for more than 25 years, recently retired from her role at Victoria Academy.
She said the role at the SCMAT was an ideal chance to continue her work to improve opportunities for young people across Furness.
"While I have retired from teaching, my passion for education and the future of teaching and learning in this area remains as strong as ever.
"The South Cumbria Multi-Academy Trust is a new, dynamic, future-focused initiative and I'm delighted to be able to add my expertise to help shape its success for the benefit of young people across the town and beyond.
"I will never be far away from the inspiring community of schools across Barrow and see this as another opportunity to lend my support and ensure pupils have the chance to achieve their potential."
The SCMAT was set up by Furness College, with Chetwynde School as its founding partner, to work with primary and secondary schools sharing innovation, expertise and world-class facilities. It is focused on ensuring pupils achieving their full potential and gain valuable academic and life skills to give them the best chance for their future.
Caroline, who has also taught at North Walney Primary, initiated the Furness Education and Skills Partnership in 2011, a charity set up to provide young people in Furness with aspirational opportunities to work with employers and develop employability skills.
During her time at the helm of Victoria Academy she was involved in setting up the Furness Education Trust, which incorporates Furness Academy, Parkside Academy, and Yarlside Academy as well as Victoria Academy.
Welcoming her appointment Executive Headteacher and Chief Executive Officer of the South Cumbria Multi-Academy Trust Professor Andrew Wren, who is principal of Furness College, said he was delighted to have Caroline on board.
"Caroline's track record as an inspirational leader in education speaks for itself. In addition, her values and vision for the future of education echo what we are trying to achieve through the Trust."
The SCMAT has also appointed experienced marketing and communications professional Kathryn Kittley as Director of Marketing and Communications.
She will work in a strategic role alongside senior team members Professor Andrew Wren, Deputy Principal Nicola Cove and Chetwynde Headteacher Steve Jefferson on the senior leadership team.
For more information about joining the SCMAT see the website www.scmat.org.uk or email info@furness.ac.uk