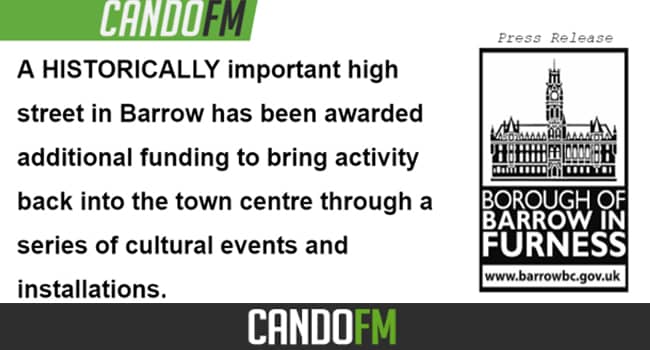 A historically important high street in Barrow has been awarded additional funding to bring activity back into the town centre through a series of cultural events and installations.
Barrow Borough Council received funding of £1.1 million from Historic England last year for their Re:discover Barrow project, a four year programme as part of Historic England's High Street Heritage Action Zone scheme. The funding is to be used to reinstate historic shop fronts, carry out building repairs, improve the public open space and deliver a series of cultural events.
Duke Street was one of 14 historic high streets across the North West to benefit from the award which can only be used in designated Conservation Areas. Now, the popular street – which includes many listed buildings of significant character – is to receive a further £100,000.
The latest award will further help to revitalise the conservation area through Lost Shops – a collaborative community arts programme delivered over four years, capturing the memories and histories of Barrow's Duke Street. It will work with residents and shopkeepers to devise an artistic celebration, including films, sound, visual and performance works, to express and share what this street means to local people.
In Year One, resident's memories and archival research will be collected and co-curated to produce films that inform and inspire the following programme.
Subsequent years will include interventions such as film projections billboard images, shop window/pavement decals, sound works triggered by passers-by and theatre performances. As a legacy all the works and research will be produced in a celebration booklet.
Councillor Helen Wall, Barrow Borough Council spokesperson for heritage, said: "Barrow's history is remarkable and vastly different from nearly all other towns in the country. It deserves to be better known nationally and celebrated locally.
"This additional funding is yet further good news for Duke Street which played such an important role in the development and culture of the town.
"I am also delighted to learn that a number of businesses have expressed interest in the grants and I hope they will become enthusiastic to learn more about the stories of their buildings and the people involved with them.
"In its short spurt of growing from rural backwater to industrial powerhouse, Barrow saw one of the biggest influxes of migrants ever recorded. This history is hugely important for the world and for the people who live here.
"The Re:discover Barrow project is a perfect way to engage people with the history that is around them and we are very lucky to have brilliant creative organisations based in the town able to find original ways to bring these stories to life."
The High Street Heritage Action Zone is specifically designed to revive historic high streets and Duke Street Barrow has many historic features and a rich and diverse built heritage.
Maddi Nicholson, founder and director of Art Gene, Lead Partner for the Cultural Consortium said: "This is a fantastic opportunity for the people of Barrow, this funding means we can deliver an array of exciting events and activities linked to Barrow's rich heritage.
"The consortium members have worked with the Council to pull together a programme of events and activities around our amazing Duke Street and we can't wait to get started."
Alongside the additional funding, Barrow has also been selected as one of six HSHAZ schemes to benefit from the creation of a 'High Street Sound Walk' by Sound UK commissioned by Historic England, the National Trust and Heritage Open Days.
The walk will be co-created with the local community and local artist Dan Fox, who will explore the changes Barrow has witnessed such as when the high street had 12,000 ship workers descend on it at lunchtime.
Listeners will explore the landmarks of work and play on the high street including iconic shops, businesses and the clubs of Cornwallis Street, alongside civic events like cycle races, and the centenary of the town hall. The sound walk will be produced in association with local sound art collective Full of Noises. The High Street Sound Walk will be launched as part of Heritage Open Days (10-19 September).