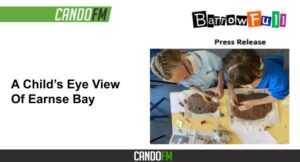 Children from a Barrow primary school have been working with an awardwinning artist to produce an exhibition focused on Earnse Bay.
The Year 5 pupils at Greengate School have created art themselves which will be on display as well as choosing the artist they wanted to exhibit alongside.
The results, entitled A Trip to Earnse Bay, will be shown at Cookes Studios in Abbey Road from July 6.
The project has been run by BarrowFull (formerly Barra Culture) and began months ago when their artist for change, Danielle Chappell-Aspinwall, and creative community connector, Marisa Crane, worked with pupils to incorporate materials which the children had found on Earnse Bay beach into mixed media sculptures inspired by Earnse Bay and their favourite things.
The pupils also worked with Danielle, Marisa and BarrowFull producer Kathrin Bonnar to create clay tiles which will be on exhibition.
"The children have been so motivated by this art project," said teacher, Mrs Lynn Reddy.
"They have loved visiting Earnse Bay and enjoyed time in the outdoors. Collecting rubbish on the beach has really made the children consider their local environment and made them feel quite responsible for it. All of them have generated creative and meaningful artwork from this process."
The children were involved in the selection of an artist whose work would be displayed alongside theirs and they chose London-based Alexander Mourant.
Alexander paid an initial visit to Barrow to meet people and take photographs before returning for a two-week residency to produce work that includes the process of cyanotype.
This photographic printing method produces prints with a distinctive blue colour, a method used widely in architecture and engineering for many years, hence the term 'blueprint'.
Alexander's cyanotypes feature beach-related objects found at Earnse Bay which is considered one of the area's incredible natural assets and is currently the focus for a community hub development.
Alexander's work has been included in many national publications and been exhibited nationally and internationally. A visiting photography lecturer and tutor at the University of Westminster, this year he's also led a  landmark schools collaboration in London.
The Earnse Bay exhibition opens on July 6 from 4-6pm and runs from 10am-4pm on July 7-9 and 11. Admission is free.