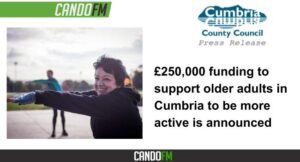 A funding pot of £250,000 to support a programme to provide older adults in Cumbria and particularly those with or at risk of long-term health conditions, new and improved opportunities to be more active has been announced.
Active Cumbria, part of Cumbria County Council's Public Health Team, is managing The Reconditioning Fund and is one of several Active Partnerships from across England involved in a national programme, Live Longer Better which is led by former Chief Knowledge Officer to the NHS Sir Muir Gray. The movement aims to enable people to live longer better, reduce the need for health and social care and reverse the effects of lockdown.
Statistics show that by 2043, 31.4% of people in Cumbria will be aged 65+ compared to 23.9% in England.  Research also shows that inactivity sharply increases with age, 29.1% of those aged 65-74 are inactive with this rising to 44.7% for those aged 75-84.
Live Longer Better in Cumbria unites sectors and partners from across Cumbria who share the mission to improve the health and quality of life of older adults.
Now, organisations, groups and delivery partners are being invited to apply to The Reconditioning Fund which supports the Live Longer Better in Cumbria programme to develop new and increased opportunities for older adults to be more active.  A maximum of £10,000 per application is available from a total funding pot of £250,000.
The Fund will particularly focus on activities which increase physical ability and movement, resilience and healthspan; reduce the risk of, and delay or prevent dementia; and prevent and minimise the effects of disease and multimorbidity including long COVID.
Active Cumbria Senior Manager for Development, Bruce Lawson, said "We have a clear role to play in reducing health and wellbeing inequalities in our county and the Live Longer Better in Cumbria programme and The Reconditioning Fund will enable us to directly support partners working with older adults and together provide opportunities for them to be more active."
Live Longer Better in Cumbria is supported by Cumbria's Director of Public Health, Colin Cox, Colin comments; "As Cumbria's older population continues to grow in numbers, it's vital that initiatives such as Live Longer Better in Cumbria encourage our older adult communities to participate in more physical activity. The preventative benefits of activity are widely known, and this programme aligns with our aims of reducing health inequalities in Cumbria, enabling our older adults to enjoy a longer and healthier life."  
Healthcare professionals, charitable organisations and physical activity providers who are currently working with or have an interest in working with older adults are actively encouraged to apply to The Reconditioning Fund and in the first instance should contact Clare Paling, Active Cumbria Older Adults Programme Lead by e-mail to clare.paling@cumbria.gov.uk .