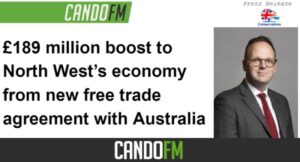 The UK has signed an historic trade agreement with Australia, our first 'from scratch' since leaving the EU, setting new global standards in digital and services and creating new work and travel opportunities for Brits and Aussies.
The deal will unlock £10.4 billion of additional trade, boosting our economy and increasing wages across the UK, while eliminating tariffs on 100 per cent of UK exports.
It is a deal tailored for the UK economy with cutting-edge agreements in areas where Britain is a world leader, including in digital and tech, along with increased access to Australia for the UK's powerhouse service sectors.
Simon Fell MP has welcomed the news that the deal is set to bring an estimated £189 million benefit to the North West's economy, boosting household wages and creating new opportunities for businesses, as well as brining greater opportunities for work and travel.
This agreement will help create new opportunities for businesses in both the UK and Australia:
It gives UK firms guaranteed access to bid for an additional £10 billion worth of Australian public sector contracts per year.
It will allow young people to work and travel in Australia for up to three years at a time, removing previous visa conditions.
For the first time UK service suppliers including architects, scientists, researchers, lawyers and accountants will have access to visas to work in Australia without being subject to Australia's changing skilled occupation list. This is more than Australia has ever offered any other country in a free trade agreement.
The deal removes tariffs on all UK exports, making it cheaper to sell iconic products like cars, Scotch whisky and UK fashion to Australia, while making Australian favourites like Jacob's Creek and Hardy's wines, Tim Tams, Vegemite and surfboards cheaper for British consumers.
The deal is also a gateway into the fast-growing Indo-Pacific region and will boost the Government's bid to join CPTPP, one of the largest free trade areas in the world, covering £8.4 trillion of GDP and 11 Pacific nations from Australia to Mexico.
Commenting, Simon Fell said:
"Leaving the EU and becoming an independent sovereign trading nation gives us the opportunity to strike out into the world and build new relationships with our friends and allies.
"This deal is a prime example of us how we can take advantage of these new opportunities, and the benefits that are brought to every region of the UK outside of the EU. It is fantastic news that the North West is predicted to get benefit by £189 million – a welcome boost for businesses and household wages.
"Locally, to Furness it is especially good news as it makes even easier the delivery of the new AUKUS deal, supporting the work of the shipyard in Barrow, and will enable Furness' farmers to access this exciting market.
"This is the first of many new trade agreements we are now free to strike, bringing a boost to our economy and increases in wages, helping to level up every corner of the country."
Commenting, International Trade Secretary Anne-Marie Trevelyan said:
"Our UK-Australia trade deal is a landmark moment in the historic and vital relationship between our two commonwealth nations. This agreement is tailored to the UK's strengths, and delivers for businesses, families, and consumers in every part of the UK – helping us to level up. We will continue to work together in addressing shared challenges in global trade, climate change and technological changes in the years ahead.
"Today we demonstrate what the UK can achieve as an agile, independent trading nation. This is just
the start as we get on the front foot and seize the seismic opportunities that await us on the world stage."