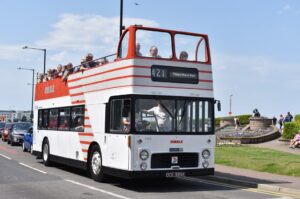 The RIBBLE VEHICLE PRESERVATION TRUST will again be operating its popular 'Vintage Bus Running Day' in Morecambe Sunday, May 22nd, 2022 at the Mazuma Stadium (former Globe Arena). Please note that everything noted below is subject to change due to the current COVID 19 Pandemic, and current regulations on social distancing and restrictions on public transport. We do however hope to be able to deliver all of the below.
With a selection of vintage buses, many from the old local Ribble Company, RVPT will operate a FREE service from Carnforth railway station, Happy Mount Park and Heysham Village to the Morecambe Football Club & Promenade every 10/15 minutes from about 09:30 to 18.00 approx.
As well as a display of vintage buses and coaches at the football club and on the Promenade, there will also with open top tours subject to good weather.
This is a great day out for all the family, while parents and grandparents can reminisce, the younger passenger can experience to sounds and smells of the past, chirpy conductors and possibly even try their hand with an old ticket machine…
With additional easy access to Morecambe from the M6 via the Bay Gateway, you could start your public transport day out with great train links to Barrow in Furness, Skipton and Leeds or catch the bus from Preston or the South Lakes.
We will be offering bi-directional bus stops at Carnforth Station, Morecambe Winter Gardens, Morecambe stadium, Happy Mount Park and Heysham Village, there is ample opportunity to get a good Sunday lunch, take a stroll on the prom and grab an ice cream.
In addition, there will be the popular Bare Circular, Stalls selling memorabilia and mystery tours on vintage coaches
Programmes available on the day for £4 with full details and timetables.
ATTRACTIONS FOR 2022
1. Stories of yesteryear, by film and sound archives.
2. Memorabilia stalls
3. food and beverage within MFC
4. open-top buses
5. + much more to follow.
VINTAGE BUS RUNNING DAY
The Ribble Vehicle Preservation Trust is organising its 'Vintage Bus Running Day on Sunday, May 22nd, 2022. Preserved buses ranging in age from 80 years to 17 years old will be available to operate a free service between Heysham Village and Carnforth railway station via Morecambe promenade and Happy Mount Park. The service will operate every 10/15 minutes between Happy Mount Park and Heysham and between Heysham and Carnforth. Buses will operate from 09:30 to 18.00. Passengers may board at the Winter Gardens or the three termini but there are no other intermediate stops. There will be an additional "L14 Bare Circular" operating on a frequent basis from outside the Winter Gardens on the promenade. A vintage coach will also offer "mystery tours" in the afternoon.